Many individuals regularly implement detoxes to help them lose weight, improve endurance, rid the body of harmful toxins, and to boost athletic and physical performance. It's no secret that these detox programs can greatly benefit and improve physical health when executed properly, but the mental health and cognitive performance benefits of doing a detox go largely unnoticed.
Despite the lack of attention these mental health and cognitive performance benefits receive, they can be just as significant, if not more so, than the physical benefits of detoxing.
In recent years, trends show a steady rise in mental health incidences including anxiety disorders, eating disorders, depression, dementia, and Alzheimer's disease. With the help of a proper detox, the risk of being diagnosed with mental illnesses can be reduced significantly, not to mention individuals report a noticeable improvement in brain functioning as shown in their productivity and performance. Furthermore, detoxing can drastically boost mood and disposition, which could have a positive impact on one's self-image and interpersonal relationships as well.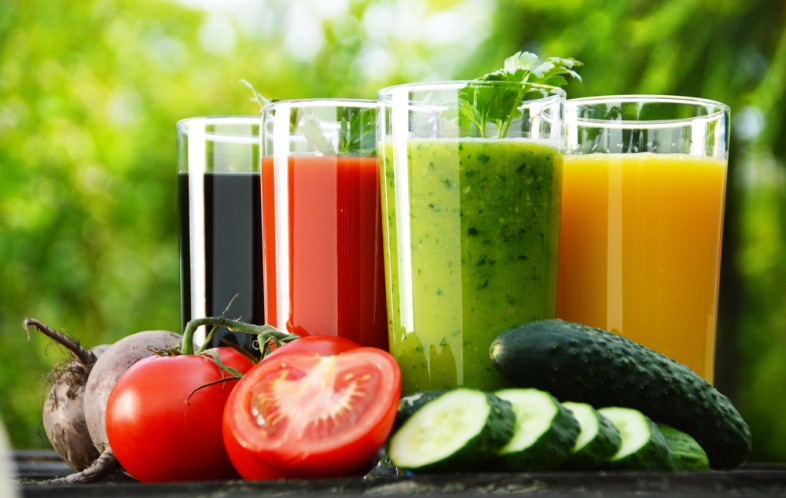 Listed below are 8 evidence-based ways a detox program can help boost brain power and bolster mental health:
1. A detox can promote the growth of new brain cells.
Since most detox diets are naturally low in calories, implementing a detox may help boost Brain-Derived Neurotrophic Factor (BDNF). This is a chemical signal that's released in the brain and promotes the growth of new cells. (1)
As a result, it may lead to a number of mental health benefits which are discussed in further detail below. These include improved brain health and functioning, as well as helping stave off mental illnesses. Those who may be wondering how they can obtain mental benefits from a detox should further review more detailed studies on BDNF. (2)
2. A detox can help boost focus and improve attention span.
Another benefit one can attain from slightly restricting calories during a detox is the increase in focus. This is thought to come from a mechanism known as "food-seeking behavior."
The mechanism involved has to do with a rise in hormones like dopamine, adrenaline, and cortisol, which boost focus and reduce distractions. (3) Along with helping you block out distractions, a detox can also help keep your mind focused on tasks. This can help boost productivity in an academic setting or in the workplace, as well as helping to accomplish tasks at home that require efficiency and critical thinking. Additionally, it also may help improve focus and intensity during sports and other physical activities.
Also, certain supplements called nootropics help boost brain function even further by promoting increased blood circulation, stimulation of the central nervous system, and stimulating new pathways in the brain for creativity.
3. A detox can help promote blood flow to the brain.
Another indicator that detox diets can boost brain power is through the PGC-1-alpha (Peroxisome proliferator-activated receptor gamma coactivator 1-alpha). This multi-faceted signal is used by the body to assist in a wide range of body functions including blood flow to the brain. (4) Improved blood circulation ensures that the different body systems are well-supplied with nutrients and oxygen, which can promote healthy body functioning.
This effect, along with the increase in chemical signals for cell growth, means a detox may be very beneficial to cognitive health.
4. A detox can help boost mood and feelings of well-being.
The perks mentioned above will do more than just improve brain function. It can also help to improve mood and feelings of well-being. The high level of vitamins and minerals consumed in certain detox therapies can boost mood and feelings of well-being through the production of serotonin and dopamine. (5)
A diet that is filled with processed foods, refined sugar, and other food-like products may cause mood swings, feelings of lethargy, energy crashes, and other unpleasant symptoms that may or may not be attributed to malnutrition. With detoxes, these nutrient deficiencies are addressed in an effort to promote overall healthy body function.
5. A detox can help improve cognitive function and problem-solving skills.
This should come as no surprise, but the high nutrient content and lower calories that most detoxes entail can greatly improve cognitive function. This is due to the elimination of 'brain fog' caused by nutrient-deficient food, as well the increase in nutrient uptake from the detox itself. (6) Individuals report clearer thought processes and faster decision-making skills almost immediately after commencing a detox.
6. A detox can improve brain signaling.
Another well-known benefit to a detox is the increase in water intake and improved hydration. This can benefit more than your physical well-being, as greater hydration levels also lead to improved signaling in the brain. (7)
It goes without saying that water is important for all living things, and it's especially true for living organisms that are made up of 90 percent water. In the human body, 73 percent of the heart and brain are made up of water, which is why dehydration has been shown to have a direct effect on cognitive performance.
7. A detox can help prevent mental illness.
Aside from boosting mood and feelings of well-being, assisting in the growth of new brain cells, and improving cognitive performance, a detox can also help prevent mental illness. While the promotion of brain matter growth can help prevent illnesses like depression or bipolar disorder from developing, the increase in nutrients can help reduce anger and may help prevent the onset of Alzheimer's disease and dementia. (8) With the rise in incidences of these mental illnesses in recent years, it's vital to undergo a detox from time to time to mitigate or even eliminate any potential risks.
8. A detox can help prevent cell breakdown.
A detox diet can help reduce inflammation in the body. (9) This helps to prevent cell breakdown and promotes the proliferation of healthy cells, which can then lead to better overall health. This is true for all the body's cells, including those in the brain. Implementing a regular detox may not only help promote the growth of new brain cells, but it also helps to protect the cells you already have, which can preserve and further boost brain function.